Sidewalk – Elegant Personal Blog WordPress Theme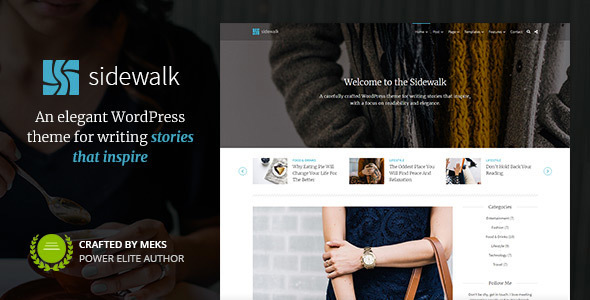 Sidewalk is an elegant WordPress theme, carefully crafted with a focus on readability and great visitor experience. It was designed with personal blogs in mind, but it will suit the needs of any advanced professional blogs and simple news/magazine websites as well.
Full feature List
Responsive Design – Your website will look just as good on big screens as it will on tablets and mobile phones.
Advanced Theme Options Panel – Sidewalk comes with an advanced, easy to use theme options panel. You will setup your website in 5 minutes.
Branding – Unlimited Fonts & Colors – Sidewalk provides options for unlimited fonts and colors as well as options to upload your logo and icons, depending on your taste. Add your personal touch to this theme!
Unlimited Sidebars + Sticky Sidebars – You can add as many sidebars as you want. Then you can assign specific sidebar to any post, page or a category. Also, you can have sticky sidebars on each template which means that widgets will be always visible while you scroll through the website content.
4 Pagination Types (including infinite scroll) – You can have a classic "older posts / newer posts" navigation, numeric pagination, load posts with "more" button, or apply infinite scrolling.
Additional Custom Widgets – Alongside the standard WordPress widgets, we provide several custom widgets:
Paginated/multi-page posts – For those who use ads on their websites, we have created a very intuitive design for posts which are split into multiple pages. Boost your page views with ease!
Support for post views number – We provide support for Entry Views WordPress plugin which is used to count views for each post. We also provide smart options so your posts can be selected and ordered by number of views.
Related posts – Of course you could use one of many "related post" plugins, but we have provided a simple yet powerful solution for displaying related posts for a particular post which will get you covered in almost any case.
Built-in Theme Translator – If you want to modify or translate the text on you website, you can do it very easily in the theme options panel. Note that .po and .mo language files are provided if you prefer to use standard WordPress translation or multilingual website.
One Click Easy Updates – You can connect your website with the Envato official API and be notified about all upcoming updates through your admin dashboard. Every time we release a Sidewalk update, you can update this theme with a single click, just like you do for any other theme hosted on the official WordPress repository.
Shortcodes – You can add some nice elements into your content with 12 flexible shortcodes. Columns, separators, highlights, dropcaps, buttons, pull quotes, progress bars, social icons, tabs, toggles, accordions… to name just a few.
Social Sharing Integrated – Allow visitors to quickly share your posts on most popular social networks.
Post formats support – Besides standard posts, this theme supports video, audio, image and gallery post formats. Also, most WordPress common embedding features are supported so you can embed facebook statuses, tweets, instagram, soundcloud, youtube, vimeo…
RTL Support – If you are using your website for right-to-left oriented reading, there is a simple option for it!
Full Documentation + One Click demo import – We provide full documentation so you can learn how to setup this theme step by step and use it's options and features. A demo content XML file is also included in the package, so you can get content very similar to our demo website, and start tweaking from that point.
Dedicated Support – If you have any questions, issues, feature ideas, do not hesitate to contact us. We do our best to respond as soon as possible and help you out!
Five star reviews from happy customers
We've received a huge amount of positive feedback from our satisfied customers. Here's a glimpse of what they are saying about Sidewalk:

Change log
1.7.1
Improved: Tested compatibility with WordPress 6.0 (yes, it's safe to update your theme)
Fixed: Gallery post format original theme styling compatibility with Gallery Blocks since WP 5.8+
1.7
Fixed: Several minor styling issues
1.6
Improved: WordPress 5.8 compatibility tweaks (yes,you can update your theme)
Improved: Several onpage SEO tweaks (added noopener tag to several target="_blank" attributes)
Fixed: Several minor styling issues
1.5.1
Fixed: WP 5.7 Gutenberg editor font size
1.5
Improved: WP 5.5 Compatibility tweaks
Fixed: WooCommerce styling improvements
1.4.3
Added: Official support for WP Forms WordPress plugin
Fixed: Several minor styling issues
1.4.2
Great news! Sidewalk theme has been awarded the "WP requirements compliance badge" by Envato/ThemeForest, which is a certificate proving that it now meets the highest quality standards in the WordPress ecosystem.
Improved: A slight code refactoring to meet the highest standards per Envato requirements
Fixed: Several minor styling issues
1.4.1
Fixed: Option to display first paragraph as cover description not working properly when page is created with block editor
Fixed: Several minor styling issues
1.4
Mandatory changes to accommodate the latest Envato/ThemeForest requirements:
Theme Options panel is removed from the theme. To make it appear again, you need to install and activate Redux Framework Plugin via Appearance -> Sidewalk plugins
All theme associated widgets cannot be a part of the theme anymore and are now removed. To get your widgets back, please install and activate Sidewalk Buddy plugin in Appearance -> Sidewalk plugins
Social sharing functionality cannot be a part of the theme anymore. To enable social sharing, please install and activate Meks Easy Social Share plugin in Appearance -> Sidewalk plugins
Additional JS and Google Anlitycs fields are not allowed in Theme options anymore thus they are removed from the theme. As an alternative, you can use Insert Headers and Footers WordPress Plugin
Favicon option is not allowed in Theme options anymore and is now patched into the WordPress native favicon field in Appearance -> Customize -> Site Identity
Other:
Added: Styling support for the latest WordPress blocks (introduced in WordPress 5.2)
Added: Admin panel styling for WP 5.0+ editor and all blocks
Modified: Options to choose social networks for sharing are now located in the plugin settings in dashboard (Settings -> Meks Easy Social Share)
Fixed: Several minor styling issues
1.3.3
Added: Support for Co Authors Plus WordPress plugin
Fixed: Pages in admin edit screen not displaying metaboxes when WP 5.x used Classic Editor plugin
Fixed: Several minor styling issues
1.3.2
Added: Styling for Blocks (coming with the new WordPress editor in version 5.0)
Improved: Fully tested and ready for WordPress 5.0
Improved: Envato Market plugin is now recommended for theme updates
Fixed: Several minor styling issues
Added: Initial support for the upcoming new WordPress content editor (Gutenberg)
Improved: Styling for GDPR cookie consent checkbox field in comment form
Fixed: Several minor styling issues
Added: WooCommerce support
Fixed: Several minor styling issues
Added: Option to enable infinite scroll loading on single posts (Theme Options -> Single Post Template)
Added: Authors Page Template which lists all blog authors
Added: Options for mobile logo and mobile retina logo ( Theme Options -> Branding )
Added: Option for featured slider to specify autoplay time per slide ( Theme Options -> Post Layouts )
Added: Options to enable content image(s) in pop-up ( Theme Options -> General )
Improved: Sticky sidebar working clunky in some cases
Improved: Automatic excerpt limit now works better for languages with special characters
Fixed: Infinite scroll pagination bug in Chrome
Fixed: Sticky header overlapping image pop-ups
Fixed: Minor styling issues in various browsers
Fixed: Problem with editing categories in WP 4.5
Added: Option to enable Smooth Scroll effect (Theme Options -> Content Styling)
Added: Option to automatically rotate featured slider posts (Theme Options -> Post Layouts -> Featured Slider)
Added: Options to on/off post format icons on all layouts (Theme Options -> Post Layouts)
Improved: Minor styling and performance tweaks
1.0.3
Fixed: Sidewalk widgets throwing notices in WordPress 4.3 if WP_DEBUG mode is enabled
Fixed: Time ago options not working properly (Theme Options -> General)
Fixed: Minor styling issues
1.0.2
Added: Logo, search and social icons added to responsive navigation
Added: Translation options for previous and next post labels
Fixed: Minor CSS glitches
1.0.1
Improved: Cover image in responsive mode
Fixed: Issue with retina logo in responsive mode
Fixed: Minor CSS glitches
1.0
Credits
We would like to say big thanks to great people for their products which help us in our theme development!
JavaScript
PHP
Icons
Images
Images on demo website are not included in the theme package and are used for demo purposes only. They are all credited to their respective creator/owner, and can be found on the following services/websites:
#Sidewalk #Elegant #Personal #Blog #WordPress #Theme
Source