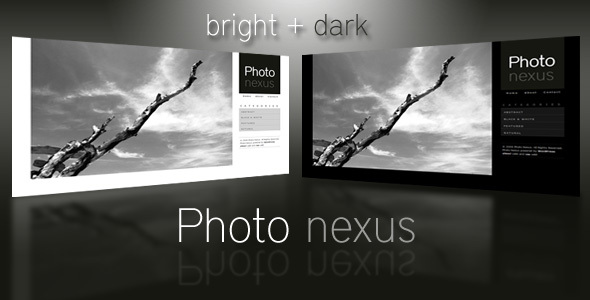 Support


http://support.imaginemthemes.com

Photo Nexus WordPress Photography Theme

Version 2.3
FIX: WordPress 3.8 theme options styles.
/framework/options/[all files and folders]

Photo Nexus V2.2
[ April 16th 2013 ]

Theme Options Upgraded. Support export & import theme options settings.

Photo Nexus V2.1

Updated Help Guide

All files Changed for WP 3.5 compatibility

Timthumnb Removed

Theme uses WP inbuilt resizing tools.

Widgets Added
- Address
- Flickr
- Sidebar Gallery
- Contact Address
- Twitter

Photo Nexus V 2.0.6
August 20th 2011

+ Updated with latest timthumb.php version

V 2.0.5 ( June 22nd 2011 )

+ IE9 Compatiblity update for the gallery thumbnails

V 2.0.4 ( May 18th 2011 )

+ Blog template
+ Galleries can be password protected

V 2.0.3 ( March 23rd 2011 )

: Minor fix for attachment image alignment


Please treat Version 2.0 as a fresh install over the previous versions.
Photo Nexus wordpress gallery is a 2 color variation ( Bright and Dark) theme.
This theme is great for those who need a convenient way to publish and showcase a self managed Gallery of Photos, Artworks or Designs.
The theme features modern yet minimalistic style so that your work will be guaranteed to be on focus.
People who bought said :

Great theme and great instructions that were provided! – DanielDennis

Works like a charm. It's well made. – Crizomatic

Highly recommend this theme, the seller is very helpful. – simmytan

General Features
Linked feature list with theme options screenshots
Internationalized
WordPress MU compatible
Light and Dark Skin
Photo gallery slideshows
Photo menu
Blog sidebar
Google Fonts
Theme options
Lots of user control settings
Page templates
Shortcodes
Dynamic image resizing
Help guide
Photo Gallery Features
Landscape and Portrait Support
Dynamic thumbnail creation
Auto Slideshow
Pause and Resume
Enable Direct linking or Lightbox for Photos
Direct Linking Photos with commenting
Bulk image upload using Page attachments
Title and Caption feature for Slideshow
Lengthy descriptions for direct linked photos
Easy sorting of Gallery images
Admin Settings
Photo Nexus settings
Featured
Gallery
Blog
Colors
Footer Options
Shortcodes
Columns
Images
Notices
Buttons
Lists
Type Styles
Page Templates
Photo Gallery Template
Contact Page
Compatibility and Guide
Tested on All Major Browsers
Tested Valid XHTML and CSS
Commented Code for easy Customization
Help Guide included to ensure you get a working website easily
Need Support?
If you need any assistance in setting up the theme send me a mail via my profile.

Source