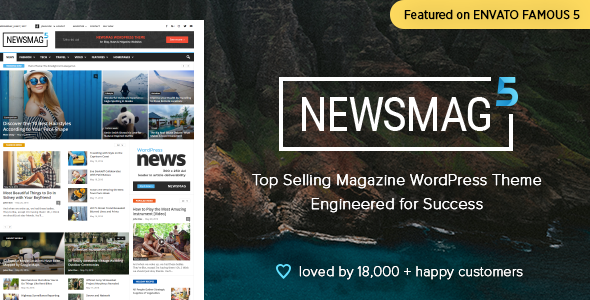 Newsmag is a modern WordPress theme that lets you write articles and blog posts with ease.
We offer great support and friendly help!
The Newsmag template is excellent for a personal blog, news, newspaper, magazine, publishing or review site. It also supports videos from YouTube and features a rating system. It uses the best clean SEO practices, and on top of that, it's fast, simple, and easy to use. News mag supports responsive Google Ads and AdSense. Build your WordPress website without any coding skills.
Say Hello to Newsmag theme – Your modern Blog, News, and Magazine template for WordPress
Newsmag Theme version 5.0 is live! We hope you'll enjoy it
Newsmag is the am awesome News WordPress Theme, with 16,000+ customers and full Five Stars item rating based on over 1,200 website owners' feedback. Bloggers, vloggers, journalists, business professionals,both beginners and advanced users trust the Newsmag Theme to create their pixel-perfect online website.
Newsmag Theme is powered by one of the easiest to use and flexible frontend page builder – the tagDiv Composer plugin. All the options you'll ever need are ready to give you all the power to make the dreams come true.
Designed to be simple, easy-to-use, and load fast, Newsmag Theme is packed with powerful features that help you start your website in minutes and make it successful.
So, what makes it a must-have for so many people? The News mag theme is the tool you'll need to build a website on WordPress. The users agree that it's easy-to-use, versatile and allows them to quickly create unique sites.
A word about speed:
We spent a considerable amount of time tweaking every aspect of the Newsmag WordPress theme to perform at its absolute best.
All the queries are hand-inspected to be optimal and make the site load blazing fast. All the theme scripts are profiled and modified to run at top speed.
Run a PageSpeed test on our pre-built demo website
14+ Unique Pre-built Websites for an awesome start:
With Newsmag Theme, you don't have to build your website from scratch. We've created over 14+ full website designs you can easily import with one click. Choose the one that's closer to your vision and start customizing it right on the frontend.
Yes! It's that easy. You get a fast start using a strong foundation handcrafted by professional designers and complete your project in no time.
Explore beautiful templates for your website:
Below we've selected some of the Newsmag WordPress Theme features. The list may be long, but so are the reasons to buy Newsmag.
The main features of the Newsmag WordPress Theme:
Newsmag is a Blog, News, and Magazine theme loved and appreciate by website owners for more than 7 years with five stars
A clean and modern theme, perfect for both blogs and magazines websites
Packed with premium and intuitive features
Responsive and Retina Ready, Ultra-High Resolution Graphics layouts
WordPress 5.4+ and Gutenberg Optimized
Over 16,700 happy customers trust the Newsmag Theme
Compatible with the WPML plugin, WooCommerce plugin, and other popular plugins
Includes Free Premium Widgets such as Weather, Social Counter, Exchange, Newsletter
Powered by tagDiv Composer – This is the only frontend drag and drop page builder designed for the publishing industry.
If you're used to the WPBakery Page Builder for WordPress (formerly Visual Composer), you'll be glad to know that it comes with the theme.
Custom auto scaling content blocks – The block changes its structure to perfectly fit your design – in sidebar, full width, or pages with sidebar.
Optimized for mobile – The theme will make sure your website will look beautiful on all devices. It's responsive and retina ready.
Accelerated Mobile Pages (AMP) – Newsmag theme is designed to load only the essential to take your content to Google 'Top Stories.' Newsmag Theme is loading your content up to 5x faster on mobile devices. The AMP support is easy to set up.
Responsive Google AdSense support via our custom admin panel – The script loads a different Google AdSense spot for each screen size. Once it's loaded, it doesn't modify it in order to be 100% compliant with Google AdSense TOS.
Responsive ads support – Perfect for ad networks that allow multiple ad spots on the same div or if you want to show your own ads on different devices. This option will change the ad spot on the fly; for example, when a tablet is changed from landscape to portrait. The header banner from the Newsmag 5 Pre-built website is using this system
Inline Google AdSense or other ads – Insert your ads after a predefined number of paragraphs.
Ads on AMP – Newsmag theme supports ads in the AMP version, so you can increase your income and generate more revenu.
Auto YouTube, DailyMotion, and Vimeo thumb downloader – Just paste a URL. The theme will automatically download the largest image from the video clip and displays it as a featured image. It's very easy to add videos to articles.
Built-in Review System (stars, percents, points).
SEO: Schema with rich snippet microdata for articles and reviews.
Built-in Translation support from our admin panel. No more .po and .mo files, you just get a form with all the strings from the theme and the corresponding translations. We hate po mo files
Make your website Multi Language. Newsmag comes with WPML support.
All the global settings are available in the WordPress theme customizer with a live preview.
Gif animation support – This is a beta feature.
9 beautiful Post Styles designed to give the perfect shape to your story.
8 Smart List templates – Easily create engaging smart lists.
10 Header styles
4 Top Bar templates
10 Footer styles
16 ad spots to help you monetize the website
Google Fonts, Adobe/Typekit Fonts, and Custom Fonts – Change the fonts easily from the tagDiv Composer, right on the frontend of your website. You can customize typography, save it as a preset and use it later, where you like it.
Sticky navigation menu – with an option to enable, disable or enable only on big screens (not on phones)
Each category has:

6 category templates styles
7 category top posts styles – each with 7 unique grid styles
15 custom module style (loop style)
Custom colors
Custom background image
Custom sidebar + position (left, full, right)
Unlimited sidebars – Each post, page, and category can have its own sidebar. Also, the author, search, tag, blog index templates, all have custom sidebars.
Built-in related posts based on tags, author, or category
Easy Google Analytics support (just paste the code in our admin)
10 footer layouts
Custom page builder elements:

Big Grid Slide
Social Counter with 10 unique styles
18 social sharing networks buttons – the Newsmag theme is social-friendly and supports various networks like Linkedin, Tumblr, Email sharing, Telegram, Digg, Reddit, StumbleUpon, VK, LINE, and Viber
Instagram widget
Weather widget
Exchange widget
Text with title
Ad box
Popular category
Custom widgets

Popular category widget – show the most popular category.
Author box widget – show authors sorted by the number of posts or by name.
Social Counter widget – shows numbers of likes, followers, or subscribers.
Ad box – allows you to select an ad zone (you define the responsive ad zones in our panel).
tagDiv Newsletter – Helps your users to subscribe to your newsletter.
16 Blocks
Instagram widget
Weather widget
Exchange widget
Slide
Text with title
See all the blocks – You can mix and match the ones you like. All of the content blocks support Ajax pagination and subcategories (including slides)
Live search with Ajax and up&down keys.
One-click install – No more .XML files. With just one click you have the pre-built designs installed for you to enjoy building upon.
We personally respond to all the requests that we receive, and we are trying to help everyone.
Please visit our support forum.
Thanks for your interest in our theme!
Nicu G., Radu, Marius, Alin, Emil G., Alina S., Alina G., Lucian, John, Bogdan, Catalin, Cristi and Simi from tagDiv
Version 5.3 – February 28th, 2023
new: Option to set a loader image;
new: Added Twitch to Social Counter;
new: Mega Menu – Support for the Taxonomy term;
new: Option to hide Rows and Columns for the logged-in users or visitors;
misc: Added dynamic cpt class on modules;
misc: Custom label option is available also for CPT;
misc: Option to remove via from Twitter share url;
misc: Google Recaptcha will also apply to Comments;
misc: Set video thumbnail as Featured Image on CPT;
misc: Option in Theme Panel to enable/disable for AggregateRating Schema;
misc: Get image from external URL on Single Background Image shortcode;
misc: Image position option for Single Background Image;
misc: Support for Vimeo unlisted videos;
misc: Added KakaoStory, Koo & GETTR share/icon and Strava social icon;
misc: We've updated the Revolution Slider plugin to the latest version;
misc: We've updated the WP Bakery plugin to the latest version;
misc: Replaced attachment_url_to_postid() function with wp_getimagesize() one for logo sizes;
misc: Option to Enable/Disable the lightbox effect on the Gutenberg Gallery shortcode;
fix: Exchange API;
fix: Added option in Theme Panel for "nofollow" link on module thumbnail;
fix: Remove login modal html when registration is not needed;
fix: Reset for theme's Gutenberg settings;
fix: Issue adding modal when custom url is set on image;
fix: Subcategories appear now on widgets filter;
fix: Tiktok on the Social Counter;
fix: MailerLite issue on tagDiv Newsletter plugin;
fix: Facebook login;
fix: Fixed a fatal error coming from Opt-In Builder;
fix: Disable Mobile Theme on an individual page with Child Theme active;
fix: Scroll on the mobile menu/mobile search click;
fix: Remove AMP when Mobile Theme is disabled on an individual page;
fix: Page templates settings on WordPress > 6.0;
fix: Admin URL exposed in source code;
fix: Ajax loop vulnerability;
Version 5.2.3 – November 18th, 2022
fix: Added an extra security check to avoid potential vulnerability in Theme Options.
Version 5.2.2 – October 19th, 2022
fix: Security Update – Removed the Facebook login for security concerns (until we fix it).
Version 5.2.1 – June 2nd, 2022
new: WordPress 6.0 compatibility;
new: Added Facebook Login functionality;
new: Option to exclude posts from specific tag on blocks (-slug);
new: Captcha on comment submit;
new: Option to disable the sticky menu on the Mobile Theme;
new: Option to set the background color for mobile navigation toolbar from Theme Panel;
misc: Added the WhatsApp social icon;
misc: Raw Html ACE editor;
misc: Added show posts/comments options on Authors Box;
misc: Video Popup Ad – Added do_shortcode() support;
misc: Added home.php template on Mobile Theme – used by page_for_posts blog
misc: We've updated the Revolution Slider plugin to the latest version;
misc: 'Review' schema now works with points and percents;
misc: Added nofollow option in Theme Panel for block thumbnail;
misc: Added Subtitle, Source and Via on CPT Settings;
misc: Exclude current post from blocks;
fix: Column Text and Text with Title issue on WordPress 6.0;
fix: MegaMenu with subcategories issue on WordPress 6.0;
fix: Don't download video thumb if featured image is set;
fix: Added some texts to Translations;
fix: Losing style on buddypress templates
fix: Fatal error on YouTube playlist;
fix: Menu/search gradient (opacity) issues on AMP;
fix: Fatal error in specific conditions;
fix: Pattern for the Category number in the widget;
fix: Comment moderation message on the Mobile Theme;
fix: Remove Login/Register HTML when the user is logged in;
fix: theme.json issue on Mobile Theme
fix: List Menu – The menu hover color option now also applies for the current menu element classes;
fix: Missing theme meta boxes (conflict with some plugins)
fix: Missing subcategories in widgets filter.
Version 5.2 – February 17th, 2022
new: WordPress 5.9 compatibility;
new: Added new features in the tagDiv Opt-in Builder, such as Paywall System, Membership Subscriptions, Unlimited Plans, PayPal Payment.
new: 8 new shortcodes for tagDiv Opt-in Builder plugin, ready to use with the tagDiv Composer frontend page builder;
new: 2 new shortcodes for the tagDiv Opt-in Builder plugin ready to use with the Gutenberg editor;
new: Flipboard social share option in the Theme Panel under the Social Share section;
new: Copy URL social share option in the Theme Panel under the Social Share section;
new: New social icons: Medium, GETTR, Parler, Gab, CloutHub, Rumble, Patreon, Github;
new: Added Extra Label option;
new: Added 'Google reCaptcha v3' on the Login/Register modal;
new: New 'Social Share' shortcode to use on the page;
misc: Update Google Fonts list to include the latest fonts
misc: Added URL option for the Single Image shortcode;
misc: Self hosted video support for video background on Row;
misc: Autosave backup for the Theme Panel Settings before the theme update;
misc: Added the 'Limit Authors' option on the Authors Box shortcode;
misc: Added 'Sorting Options' for the last popular 24-48 hours posts;
misc: Updated PO MO translation files;
misc: Update Revolution Slider;
fix: Structured data fix, missing URL for the author;
fix: Autoplay for videos: Your videos can now start playing without sound on page load;
fix: Page templates on Classic editor;
fix: WPML string translation on the Mobile Theme;
fix: Pinterest;
fix: Instagram feeds;
fix: Sticky Video issue;
fix: Image caption on AMP;
fix: Opt-in Builder assigns the lead a cookie even if the email is already in the list;
fix: Mobile Theme on WP Multisite;
fix: Social Counter plugin style for multiple shortcodes on the page issue;
fix: Edit with tagDiv Composer button for contributors/authors;
fix: Update plugins on wordpress.com server;
fix: Set the full size of an image for the AMP Image Size (Google requirements);
fix: jQuery shorthand deprecation warnings;
fix: Dailymotion Get/Set Featured Image issue;
fix: Updated the API URL for the covid-related shortcodes;
fix: Modified date on the Mobile Theme;
Version 5.1 – August 10th, 2021
new: tagDiv Opt-In Builder plugin – Generate leads and increase conversion rates with opt-in content lockers and subscription lists. tagDiv Opt-In Builder helps you easily create content lockers, subscribing lists and gives your visitors a compelling reason to enter their email address (opt-in) to unlock your content;
new: Leads shortcode – We know that collecting leads is essential for your business. We've added a new shortcode in the tagDiv Composer page builder to help you in marketing efforts. With Leads Shortcode, you can easily design a form that collects emails and place it on your website where you like it;
new: Post content locker – Newsmag Theme now can lock the content of an article and allow users to view content based on an email subscription; 
new: Filter option added on blocks to display the Locked articles on Flex Blocks – 'Show exclusive posts only.' It works as standalone or in combination with other filtering options existing on the content blocks;
new: Option to display the "Exclusive" badge on Flex Blocks and globally on modules to mark the locked articles;
misc: WordPress 5.8;
misc: Support for new WordPress Widget Builder;
misc: We've updated the Revolution Slider plugin to the latest version;
misc: Redesigned activation message in wp-admin;
misc: Option to Deactivate/Delete panel backups;
misc: Added Author on Module 1 in the Mobile Theme plugin;
fix: Reset – delete just the Theme Panel settings option;
fix: Custom placeholder on Mobile Theme;
fix: Option to add js code after the body tag;
fix: Page template settings in Gutenberg;
fix: Raw HTML cannot be selected in tagDiv Composer;
fix: Added Print for translation;
fix: Remove JS block editor for mobile, on widgets.php section.
Version 5 – June 30th, 2021
new: Instagram Connect System in the Theme Panel>Social Networks section for personal or business Instagram accounts;
new: Option in Theme Panel -> Template Settings to disable ToTop button;
new: Added title_tag (Seo) option on block;
new: Added TikTok option for Social Counter;
misc: tagDiv Composer performance;
misc: Theme performance on the memory allocation;
misc: Updated Facebook and Instagram to the new API in Social Counter;
misc: Width and height attribute on header/footer logo;
misc: We've updated the Revolution Slider plugin to the latest version;
misc: tagDiv Newsletter duplicated queries;
misc: Added Lazy Load animation on the Image Box and Single Image element;
fix: Favicon on Mobile Theme;
fix: Added form tag and label for Sign In input;
fix: CSS fix – Image Caption on Mobile Theme and AMP;
fix: Some characters like "]" that break shortcodes structure;
fix: Twitter URL – author socials;
fix: Autosave backup for the Theme Panel settings;
fix: Image thumbnail for Vimeo videos;
fix: Vimeo playlist error;
fix: Captions from Image Gallery appear in the excerpt;
fix: Prevent sending XSS injection in block ID and block attribute – courtesy to Truoc Phan of Techlab Corporation;
fix: Some string translations on the Mobile theme;
fix: Undo/redo history in tagDiv Composer due to memory limit on local storage;
fix: Other css fixes.
Version 4.9.6 – December 11th, 2020
new: tagDiv Theme Welcome Page;
new: WordPress 5.6 compatibility – Newsmag Theme is now compatible with the latest WordPress version;
new: Flickr block;
new: Video pop-up for Single Image shortcode;
misc: tagDiv Composer history system performance;
misc: WooCommerce compatibility;
misc: We've updated the WPBakery plugin to the latest version;
misc: We've updated the Revolution Slider plugin to the latest version;
fix: Facebook oembed fix for featured videos (the thumbnail generator system is deprecated and it will not be supported anymore);
fix: Facebook social counter;
fix: wpb_wrapper – selector used on columns;
fix: excerpt length issue;
fix: illegal string warning on font icons;
fix: translation issue for reset password message.
Version 4.9.5 – August 10th, 2020
Note: Before updating WordPress to the latest version, we recommend you to first update the Newsmag Theme.
new: WordPress 5.5 compatibility – Newsmag Theme is now compatible with the latest WordPress version as it was tested with the RC WordPress 5.5 version;
misc: We've updated the theme with the latest Instagram API;
misc: We've updated the Revolution Slider plugin to its latest version;
fix: YouTube/Vimeo API;
fix: Image caption appears in the excerpt;
fix: Closing Block with Title shortcode when text content is not added;
fix: XSS security issue;
fix: Caption doesn't appear on the modal gallery;
fix: Playlist in page megamenu error;
fix: Duplicate canonical URL when Yoast plugin is active;
fix: CSS fixes.
Version 4.9.4 – April 14th, 2020
new: Automatic Theme Update – When a theme update is available, you can install the latest version with a single click, directly from the theme panel. The system downloads the latest version from the tagDiv servers and automatically updates the theme's files and the native plugins so that you can focus on the content;
new: Update Notification System – When an update is available, you'll see a notification in the WordPress Admin interface (wp-admin);
new: 2 Stats shortcodes – Perfect to display Covid-19 Statistics on your website;
new: Modal Video Popup with Ads Support – Easily create a great user experience for your users with Newsmag Theme. Highlight your video content with an AD on a modal window. There is no need for the audience to access the article to see the video;
new: Sticky Video Player on the articles – Your videos stay on screen, playing when the audience is scrolling down the page;
new: Video Lazy Load on mobile for youtube videos;
misc: featured video supports self hosted video url;
misc: WordPress 5.4 compatibility – Newsmag Theme is now compatible with the latest version of WordPress CMS;
fix: Closing the website manager on the Firefox browser;
fix: review instead of date on mobile theme issue;
Version 4.9.3 – March 18th, 2020
new: Theme Panel auto-backup for the settings – Every time you click the Save button in the Theme Panel Save, the system creates a backup copy for the previous version. With Newsmag Theme now you can turn back time and restore the before-the-change settings;
new: Sharing video content with your audience using the Newsmag Theme is easier than ever. You can now dynamically populate the Youtube Video Playlist element with videos from Channels, Username or Playlists;
misc: the YouTube Video Playlist and YouTube Social Counter now require a YouTube API Key to grab the data. Follow this guide to get your key;
misc: Added better support Custom Post Types (CTP) on the content blocks;
misc: We've updated Revolution Slider to the latest version;
fix: Pinterest widget;
fix: decoding issue on Text with Title shortcode;
fix: get_post_datetime() when return false;
fix: dropcap issue on Mobile Theme.
Version 4.9.2 – January 16th, 2020
new: New Styles and Features on Gutenberg blocks – We've added extended & enhanced support for the Gutenberg blocks;
new: Secure Instagram feeds with the access token – Newsmag Theme automatically imports the feeds from Instagram API with an access token;
new: 7 WooCommerce shortcodes are now available: New products, Featured Products, Best Selling Products, Most Popular "On-sale" Products, Products by Rating, Products by Category, Product Categories;
new: Enhanced UI design for the tagDiv Composer page builder – We've redesigned the whole experience so you can build your website faster and be more efficient;
misc: We've made some adjustments for better support WordPress 5.3.
misc: Option to disable the schema.org/Article markup on the article;
misc: Header and Footer settings for Mobile Theme;
misc: We have updated Revolution Slider plugin to the latest version;
misc: We have updated WpBakey Page Builder plugin to the latest version;
fix: Canonical links on mobile and AMP;
fix: AMP on the WooCommerce templates;
fix: Translation on the mobile theme;
fix: schema.org/Review markup error;
fix: Various css fixes;
Version 4.9.1 – July 30rd, 2019
new: New options added for Mobile Theme. Now you have additional settings to customize the Grids, the Latest Articles, and the Theme Fonts. This is an important enhancement as now you can add more style to the way your website is displayed on mobile devices;
new: Option to Enable/Disable the Mobile Theme for individual posts and pages. Now you have the power to control which post or page is shown to your mobile visitors;
misc: Improved Child Theme support;
misc: The Block Title Tag option was added on the Block settings;
misc: Better search;
misc: We updated the WPBakery Page Builder plugin to the latest version;
misc: We updated the Revolution Slider plugin to the latest version;
fix: vc_column_text and td_block_text_with_title can now have self enclosed shortcodes;
fix: Sign-in/join now appears in the Mobile Menu;
fix: General Modal now applies properly;
fix: The Canonical URL on Pagebuilder with Latest Articles template;
fix: The Import/Export theme panel settings;
fix: Logo Text;
fix: Various CSS fixes.
Version 4.9 – May 21st, 2019
This update brings changes for the Envato WordPress new standards. Find all the info about what you need to know and do regarding this update in the dedicated article on our blog.
Version 4.8 – April 24th, 2019
!IMPORTANT UPDATE NOTICE
Newsmag Theme is now compliant with the Envato current WordPress Standards – WordPress Requirements. This update is different as it makes changes to the theme' code structure. It doesn't influence the functionality and features.
Find all the details you need to know and do regarding this update in the dedicated article on our blog.
new: Introducing Mobile Theme plugin – We are delighted to give you a new, much easier way to create engaging experiences on mobile devices for your visitors.
new: Extended AMP Support. The Mobile Theme plugin is designed to integrate seamlessly with the official AMP plugin for WordPress.Together, they are a smart solution to quickly give you the best results and increase your page loading speed on mobile up to five times faster. The tagDiv AMP plugin is now discontinued.
new: Added Modified Date Option.
misc: We updated the WPBakery plugin to the latest version.
fix: Other various CSS fixes.
Version 4.7 – December 13th, 2018
new: Font option for text logo and tagline.
misc: Compatibility with Gutenberg and WordPress 5.
misc: We updated the WPBakery Page Builder plugin to the latest version.
fix: LazyLoad on slow network connections. Please clear all your caches, including browser cache.
fix: Css fixes for flex blocks.
Version 4.6 – November 6th, 2018
new: We're introducing the intuitive Right-Click option in the tagDiv Composer page builder to bring you new features and a natural way to design your website
new: Flex block 1 and 2. The new flex block elements enable unique layouts with a lot of flexibility.
new: Author Box & Image Box
new: Pinterest option on Social Counter
new: Fixed count option Social Counter
new: Option to choose the H tag format for the Title element- new: fixed count Social Counter
new: The list of Used Colors for pickers is now available in tagDiv Composer in the Recent Colors section
new: The list of Used Fonts is available in the tagDiv Composer under the Load Font Settings menu
new: We updated the WPBakery Page Builder to the latest version.
misc: Update for tagDiv Newsletter plugin: added MailChimp GDPR checkboxes
misc: WPML support
fix: Column Text encoding issues
fix: Pinterest api
fix: Weather block mapped on tagDiv Composer
Version 4.5 – July 5th, 2018
new: added support for multiple sticky sidebars. The setting is available when you select a column in the tagDiv Composer page builder
new: custom URL option for RSS in tagDiv Social Counter plugin
fix: WPML flag in post content
fix: if the footer is disabled, from now on, it will be hidden on the AMP theme version too
fix: various typos in the Theme Options panel
fix: Pinterest block API issues. It also has better error messages
fix: the exchange widget now works as expected but it requieres a api key
misc: better error messages when tagDiv Composer encounters a problem
Version 4.4 – May 24th, 2018
new: we added support for the private policy WordPress page on the login/register modal window.
new: setting to disable google fonts in theme panel – fonts – google fonts settings. You can load local font files and use them instead of external fonts.
misc: the plugin update system was completely rewritten from scratch. It tries to update the plugin using multiple ways and if it fails, it will show an admin notice with information about what plugin failed and why.
misc: all plugins now have a built date on them besides the version.
misc: the theme is GDPR compliant now.
new: shortcuts to use in the footer text – date, sitelink, privacy_policy and more. The list of shortcuts is available in the theme panel next to the setting.
Version 4.3 – April 18th, 2018
new: tagDiv AMP plugin – tagDiv's solution for implementing Google AMP in WordPress
new: tagDiv Newsletter plugin – newsletter form beautifully designed with over 8 styles
new: Font settins can now be saved as a preset and applied on all the blocks from tagDiv Composer easly
new: Social sharing networks, the theme now supports Linkedin, Tumblr, Email sharing, Telegram, Digg, Reddit, StumbleUpon, VK, LINE and Viber
new: Ability to reorder the social icons with drag and drop from the theme panel
new: 20 social icons styles for social sharing
new: If the icons do not fit on screen the theme will automatically hide them
fix: Pinterest board URL
fix: Facebook videos support now works again
fix: We've updated to the latest Instagram API, this should fix all the problems
misc: Improved tagDiv Composer selection mask. New colors and better UI, now the controls are outside of the selection mask, this allows better selection for small items.
misc: WP-admin performance issue. We optimized the tagDiv Composer to load only what's needed and where is needed. Wp-admin speed should greatly improve.
misc: Huge speed improvemnts in tagDiv Composer editor. We did a full memory consumption audit for tagDiv Composer and we fixed a few memory leaks.
misc: We've removed unneeded confirmations from tagDiv Composer. For example when the content of the page was not changed and a user wanted to close the Composer.
misc: When closing tagDiv Composer you will be redirected to the previeous page instead of the default edit page. We found that this provides a better user experience
misc: tagDiv Composer now has a new color picker script that is a lot faster then the old one. The same color picker is used on the widgets.
misc: We added a couple of new social icons that are available on the top bar and footer of the site
Version 4.2 – November 17, 2017
misc: WPBakery Page Builder plugin updated to the latest version
misc: Compatibility with WordPress 4.9
fix: Weather forecast
Version 4.1 – November 1st, 2017
misc: WPBakery Page Builder plugin updated to the latest version
misc: Revolution Slider plugin updated to the latest version
fix: Weather widget
fix: XSS Security issue
fix: Background click ad
Version 4.0 – July 13th, 2017
new: Challenging you to be more creative and productive, we've added the first page builder ever created for blogs, news and magazine websites. Newsmag 4 brings you tagDiv Composer – a lighter, faster and more efficient way to build your site. Ready to be used right on the frontend, easier than ever, seeing every change instantly.
new: Live frontend LESS and CSS editor. This allows you to quickly add CSS or LESS quick to any page of your site
new: News Magazine demo
new: Clear Voice demo
new: Sound Square demo
new: Buttons that are available in the format menu
Version 3.3.1 – January 26th, 2017
fix: We modified the login modal window code to only appear on the page when front page login is enabled. This makes sure that some versions of Chrome browser will not mark the site as "Not Secure".
Version 3.3 – December 23rd, 2016
misc: WPBakery Page Builder plugin updated to the latest version 5.0.1
misc: Revolution Slider plugin updated to the latest version
misc: Full compatibility with WordPress 4.7
new: The Plugin Page from where a user installs the included plugins was completely redesigned to be more user-friendly.
new: Added support for block templates overwritten via the Theme API system in demos. All future demos can now load different block templates if needed.
new: The comment form is now validated with javascript. This was a long requested feature, and we are very happy how it turned out.
misc: CSS fixes in the theme panel and the welcome screen
misc: We finally updated the social icons, and we also removed the icons for dead services (Picasa, Posterous, etc.)
misc: The Social Networks panel now checks each input to be correct, this prevents user error, and bad URL's that supposed to go to social networks profiles but instead go to 404 pages on the site
misc: We removed the max-width from srcset on images and the responsive images on mobile now work as expected
misc: Translation panel information text
misc: On Android, when a user uses the mobile search, it will autofocus on the input field now
fix: Password protected comments now work as expected
fix: Facebook videos that are in the content of the post now work and resize as expected
fix: Font panel CSS issues
fix: The tag Ajax filter now displays the tags in the order of the id's the user selects. Before it was alphabetically
fix: Home breadcrumb does not appear as structured data as required by the Google metadata testing tool
fix: Smartlists that had image captions with HTML where broken. Now we fixed them.
fix: category sorting options was not working sometimes.
Version 3.2 – October 10th, 2016
new: added support for design options on most of the blocks. You can now change the padding, margin and border on blocks
new: added support for retina images on our blocks and modules. You can enable them in the panel.
misc: various core code refactoring and optimizations.
misc: better theme documentation and better help text in panel
misc: added used on for thumbnails in theme panel
misc: file path and names are now visible on each module, smart list, template etc on hover
misc: breadcrumbs markup, added BreadcrumbList schema
fix: our blocks sometimes had issues autoadjuting the column count when placed in a inner row that is in a row
fix: on first install the WPBakery Page Builder tooltip was appearing over our tooltip and there was no way to close the last remaining open tooltip
fix: wrong recomanded columns in WPBakery Page Builder, new users found it dificult to find out on what colum layouts our blocks work best
fix: background ad on tempalte 8
fix: top menu hover and background ad cursor fix bugs
fix: images that have alignnone now work as expected
fix: main menu was loading without css on first load
fix: modal login button css
Version 3.1 – July 25th, 2016
UPDATE NOTICE: Please note that this version does not work with legacy WPBakery Page Builder versions.
new: WPBakery Page Builder plugin updated to the latest version 4.12
new: login, register and forgot password ajax windows, a complete and more modern redesign.
new: added support for full height rows, column position and content position on them in WPBakery Page Builder.
new: added support for parallax speed on rows
new: added support for equal height inner rows and content placement
new: setting to hide the author name on modules and on single posts independently. Previously there was only one global setting.
new: Added support for custom fonts in theme panel that are uploaded via the wordpress media gallery. The custom fonts can be used just like before on most of the theme's UI without writing any code
new: the weather widget now opens an input if it's unable to locate the user via the browser's location API.
misc: we fully rewrote the trending now block, it's now leaner and it works better
misc: block parameters now have a better description
misc: code improvements to the following shortcodes: td_block_big_grid_slide, td_block_homepage_full_1, td_block_ad_box and the video playlists
misc: the media gallery that is used in the theme panel is now less cluttered and without the unused options
misc: we cleaned the theme panel and the code is more organized now
misc: all the blocks now show a notice to admins on the frontend when there are missing settings that are required.
misc: the main theme loader is smoother now and has small design improvements
misc: we changed the way templates detect the WPBakery Page Builder plugin. The detection method is based on VC_ROW and it only triggers when VC_ROW is found in the content. This allows one to use shortcodes in the default templates that have sidebar + title.
misc: added font settings for post lists
misc: drop caps font settings issue fix
misc: all the advertising blocks now support an ad title
misc: various google webmaster structured data issues have been fixed
misc: better support for IE8
fix: category dropdown list with long category titles now works as expected
Version 3.0 – June 7th, 2016
UPDATE NOTICE: Please update tagDiv Social Counter to the latest version that comes with the theme.
new: Grid system – with this we eliminate all the # in url bugs
new: Instagram block and widget
new: Footer Instagram
new: Weather block and widget
new: Weather option in top bar
new: Exchange block and widget
new: Mobile menu
new: Search menu on mobiles
new: Background support for mobile search and menu with parallax
new: 1 new footer styles
new: 5 new category templates
new: 3 one click demos
new: 10 Social counter styles
new: Login/register option for mobiles
new: Custom post types now support a global sidebar that can be set from the theme panel
new: Logo in H1 tags
new: Reset button in theme panel. This will bring the theme to the original state
new: Panel for one click demos
new: Enable/disable category pull-down filter option in theme panel
new: Display order for category tags on post pages option in theme panel
new: Social Counter – version 4.1 – please update your plugin to the latest version
new: Whatsapp share for article on mobile devices
new: 4 new smart lists ( smart list 5, 6, 7 and 8 )
new: 3 new ad spots used for smart lists ( smart list 6, 7 and 8 )
new: 1 new ad spot (Footer top)
new: 4 new top bar layouts
new: We removed the Smooth scroll option from panel
new: New look for the main menu sub-menus
misc: The theme settings are now only saved once per pageload and only if needed. We use the shutdown action to save them.
misc: Video playlist block now works with multiple playlists of the same type on one page
misc: We audited all the metadata produced by the theme and we improved every aspect of it
misc: Updated the google fonts list
misc: Better seo on smartlists
misc: The categories that are listed on post pages can now be shown using the WordPress default order. This can be enabled from theme panel.
misc: We optimized the queries for all the blocks and widgets that don't show posts (popular categories, social counter etc…)
fix: Panel got stuck while saving in specific cases, mostly related to categories
fix: Contributor users cannot change the post template now, this is more in line with WordPress
fix: Security issues
fix: Infinite pagination on categories did not work with speed booster
fix: Removed no comments message with comments disabled
fix: Infinite loading on categories issue with latest posts when the rest is fewer than the "Blog pages show at most" setting
fix: Footer logo title attribute
fix: TinyMCE issues with the shortcodes menu (multiple options where selected in specific cases)
Version 2.3.6 – April 14, 2016
new: WPBakery Page Builder plugin updated to the latest version 4.11.2
new: Revolution Slider plugin updated to the latest version 5.2.4.1
fix: a jQuery syntax issue that appeared after WordPress 4.5 update
Version 2.3.5 – January 9, 2016
fix: WordPress 4.4.1 homepage pagination issue
Version 2.3.4 – December 23th, 2015
new: WPBakery Page Builder was updated to the latest version 4.9
new: revolution slider was updated to the latest version 5.1.5
fix: modified structured data to comply with Google's new requirements
Version 2.3.3
fix: pagination was not working on categories with big grid disabled on WordPress 4.4
Version 2.3.2 – November 30, 2015
Version 2.2 – September 1st, 2015
new: We are using a new LESS compiler for the CSS. This prepares our theme for the next stage, when we will optimize CSS delivery based on settings and components used
new: This is the first version of our Ajax preloader. The preloader brings the Ajax subcategories on the initial pageload. This provides a better user experience and, in some cases, a better performance if the initial page is cached.
new: All categories have an option for Infinite Loading + Load More instead of pagination
new: WooCommerce Invoicing plugin
new: WooCommerce Label Maker plugin with support for the Dymo label printer
fix: On the ad block the sidebar ad spot cannot be selected since the last WPBakery Page Builder update
fix: live ajax search box in specific circumstances was linking to categories instead of the actual search results
fix: security issue with the ajax code that handles the sidebars.
fix: issue with ajax subcategories. If you clicked them fast enough there was a chance that they will desynchronized with the content, showing the wrong content.
fix: the smart sidebar animates better now when it's used with the smart affix menu
fix: we added the alt tag to placeholder feature images and the thumb disabled images
misc: a big part of the themes JavaScript now passes jsHint and complies to WordPress JavaScript Coding standards
misc: mega menu ajax loading now works smoother and the animation is top to bottom
misc: infinite loader now has a loading animation
misc: we improved the loading animation, when needed it's smaller and it looks better
misc: revolution slider was updated to the latest version
The list of modified files | Blog post – more info about this update