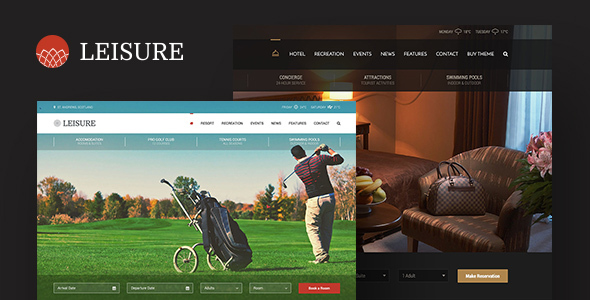 WordPress Hotel Theme
Hotel, Resort & Spa websites will look great with the new high quality Leisure Hotel WordPress Theme. With dedicated features for any hotel, resort and spa, Leisure was built on the Leisure – Hotel, Resort & Spa HTML Template from Curly Themes, a 5 stars buyer rating template on Theme Forest. It is the perfect choice for any website dedicated to leisure and recreation business, like golf clubs, soccer and tennis center, leisure pools and spas, holiday resorts, hotels and other similar activities. Designed for websites with large, beautiful images, multi-level menus and generous footers, the theme is uniquely suited for eye-catching displays.
Built on the popular Leisure template trending right now on Theme Forest.
From the same author that brought you:
The number one best selling horse theme of all time
The number one best selling fishing and racing theme of all time
Trending top 10 best selling Miscellaneous theme of all time
Hotels, Spas, Resorts, Clubs and all other Leisure Businesses Leisure is the first Leisure-Purpose WP Theme. It was built with rich functionality in mind to help business owners create a stunning looking website in no-time. Your presence on the web will be one of great looks and your visitors will be impressed. Special Features
We have extended WP and all 3rd Party Plugins that we used in Leisure Hotel to bring out the most of all components and creating an homogenous environment.
The theme comes bundled with the coolest Drag & Drop WP builder on the market, Visual Composer
Slider Revolution is the #1 WP slider and it comes FREE with Leisure Hotel
Leisure Hotel is Ninja Forms Plugin friendly. The theme has extended Ninja Forms by creating a nice drag & drop field organization
Clear, simple and intuitive Theme Options Panel
Fast & Easy customization with the built-in WP Customizer
Easy drag&drop content management with Visual Composer
Content management is easier than ever with our enhanced Visual Composer editor.
Spectacular effects with the Revolution Slider
This next generation slider from ThemePunch makes stunning graphic displays easier than ever. You can create your own effects, allows video embedding and user interaction, it's fully responsive and SEO friendly.
Complex forms made easy with Ninja Forms
With a simple drag and drop interface and no code you can create complex WP forms within minutes. The Ninja Forms plugin is completely free and you can enjoy our extended version with new features.
Fully compatible with retina displays
Your web graphics will look perfect on any retina device thanks to the modern Leisure Hotel framework. All elements are fully retina compatible.
Improved performance
Your website runs faster and smoother with our progressive theme tweaked for speed.
100% Responsive and 100% Fluid
Leisure Hotel is built on a fluid framework so your website can look perfect on any device. All elements are fully responsible. No matter your design, you won't have to worry.
Easy-to-use advanced admin panel
Customize any feature with a few clicks in our simple yet effective admin panel. You don't have to know how to code to get a great design with Leisure Hotel.
Complete customization
Create unique designs every time with our advanced admin panel that can adapt to any needs. From business to fun, from simple to spectacular, you can get exactly what you want in minutes.
Easiest installation and setup possible
Whether you choose to install via WordPress or via FTP, it doesn't matter, it's still as easy as it can get. You can have Leisure Hotel on your platform, together with our demo content, in just a few minutes.
Demo Content Included
Get a quick start with our helpful demo content included in the download package. You also get demo content for ninja forms and the superb Revolution Slider.
Easy auto-update
Thanks to the Leisure Hotel easy auto-update you don't have to worry about theme updates anymore. With a quick one time setup you get auto-updates and you never lose any content or settings during the process.
Large menus with three levels depth
No matter how big or small you like the menu, Leisure can tailor to your needs. With our built-in menus feature you can create up to three levels sub-menus depth menus just by dragging and dropping.
Make any page a one page hotel website
With the advanced customization tools available for Leisure you can turn any page you want into a one page website.
Custom backgrounds anywhere you want
Get the desired spectacular look for all website elements by taking advantage of our extensive backgrounds customization. You can use a different background for each section or page or you can simply configure globally.
Smart pre-designed layout
Leisure comes with a nice pre-designed layout perfectly suited for a recreation business website. It's quick, easy to set up and shortcodes make it very flexible.
Easy online shop with WooCommerce
You can turn Leisure into an amazing online shop just as easy as you can do any other design. Our theme is fully adapted for WooCommerce, the most popular plugin for e-commerce.
Your own forum with bbPress
Add an easy-to-manage forum to your website with the bbPress plugin. This amazing plugin from the developers of WP has all the community features you need.
Stunning graphics with CSS3 Animations
Impress your visitors with gorgeous CSS3 animations, included in the Leisure Hotel theme by default. You can adjust them to display the animation exactly how you want and they look great on any device.
Customize with unlimited colors
Leisure Hotel comes with unlimited colors options for major elements so you can get the perfect design for your website. You can create your own unique skin or you can use one of our pre-defined color schemes.
Impress with a beautiful header
The header options are so flexible you can get the perfect display for each individual page. Use a slider, a custom image, add elements, change colors, sizes, anything you need to get the ideal result.
Speed and looks with vector font icons
Your website loads faster and looks great on any device thanks to our crisp vector font icons.
Translate your hotel website to any language you want
Speak your visitor's language by having a multi-lingual website or translate the theme to better suit your needs. It's quick and easy with the popular WPML plugin but you can also use Poedit or Codestyling Localization plugin.
Font Awesome icons + hotel icons
The Font Awesome icons library is integrated into Leisure and you can use them all through shortcodes. Choose from hundreds of icons and customize them by choosing the size, color, background or style.
Custom typography options
Choose the fonts you want and customize the style, variant and size the way you like it. You can include special characters, use a custom font or choose a different font for different elements.
Hotel SEO Friendly Theme
Leisure Hotel was designed for easy SEO integration so you should only worry about having quality content. For professionally SEO practices, you can use popular plugins like All in One SEO and Yoast SEO.
Unlimited custom sidebars
Create as many sidebars as you want and populate them with as many widgets as you want. With the Leisure admin panel you can simply drag&drop widgets and create a sidebar in no time.
It's simple when you have clean code
Writing the perfect code is our job so you don't have to worry about it. Our clean code, complying with the latest WP standard, makes life easier for you and your visitors.
Beautiful hotel images with iLightBox
A picture is worth a thousand words but an image with iLightBox is a million. With state of the art features, you can use lightbox images to create a breathtaking design, showcasing your best hotel pictures.
Accessible with WAI-ARIA
Leisure takes into consideration the latest accessibility standards through the WAI-ARIA set of attributes. People with disabilities will be able to use your website.
Extensive documentation
Learn everything you need to know about Leisure WP theme through our extensive documentation. With detailed instructions and helpful screenshots it's easy to understand any section of the theme.
Optimized for speed
We know your visitors don't have time to lose so Leisure Hotel is designed to load fast and run smooth. With clean code and the option to use only the features you need, our theme is optimized for speed.
Smart search function
Let your visitors quickly find what they are looking for in style with our smart design search field.
Get social
Your visitors will enjoy promoting your content on social media with the slick designs we made available for social sharing.
Experienced customer support team.
No problem is too complicated and no issue is too small for our competent support team. In the past, we have added new theme features after a customer request and we are excited to keep doing it in the future.
Leisure Features
Designed for Any 4 Corner Device
Parallax Effects
Best Animation Library on the Web
Clean and Modern Typography
22 Template Pages
IMPORTANT: Please note that the pictures & videos are not included.