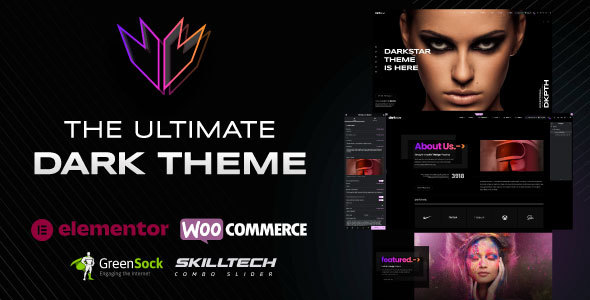 DarkStar – The Best Dark WodrPress Theme on the market.
The dark theme you've been looking for is here! DarkStar is The Ultimate Dark Multipurpose WordPress Theme, as well as The Best Dark WooCommerce Theme and The Best Dark Elementor Theme.
The most versatile dark theme, easy to use and powerful. Suitable for professionals and beginners as well as creatives, agencies and businesses. With DarkStar, you get a perfect solution for Dark Digital Agency, Dark Portfolio, Dark Design Studio, Dark E-Commerce, Dark Blog, Dark Professional Theme, Dark Creative Theme, Fashion WordPress Theme, Freelancer WordPress Theme, Luxury WordPress Theme and so much more! Designed with one goal, to be the best dark theme on the market. DarkStar is a true dark multipurpose theme with dozens of ready-made demos, fully designed Dark Shop, forms, account, checkout, cart, fully designed Dark WordPress Blog and much more. It has exceptional options and UI/UX & Styling Control with an amazing admin panel and dedicated controls for all individual elements.
The Best Dark WooCommerce Theme
This is the one Dark Shop you've been looking for. A full custom, Superior Dark Shop Design covers the entire WooCommerce experience including shop page, products, product categories and tags, my account, cart and checkout including forms and product search. But don't take our word for it, Launch DarkStar Shop Now. The shop comes together nicely with full controls over the hero section, sidebar and the main shop loop. A pixel perfect design with slick dark look works perfectly with transparent product thumbnails. Control what your shop looks like, set default layouts for products and product categories and personalize each product how ever you like. You can use 100% ready to go designs or you can build your product pages starting from a blank page. Insert custom banners anywhere you want with DarkStar Section Templates
The Best Dark Elementor Theme
DarkStar is the True Dark Elementor WordPress Theme with a massive library of PRO Elementor Elements – the DarkStar Elementor Elements! With DarkStar, you get 40+ Premium Elementor Widgets including Skilltech Combo Slider, Theme-style Header, Forms, Portfolios, Galleries, Carousels, Custom Page CSS and so much more. Build amazing pages in minutes with our colletion of Elementor Widgets.
Premium Elementor Widgets
DarkStar Elementor Elements include 40+ of our own Premium Elementor widgets like many of Elementor PRO widgets such as forms, portfolio, custom page CSS, code highlight, posts loop builder, call to action section, quote and more.
Dark Drag-and-drop Perfection!
Ready to use, drag-and-drop elements and sections! Build outstanding pages in minutes with hudreds of our meticulously designed Elementor Page Builder elements.
UI/UX & Styling Control
Flexible and powerful admin panel let you set default styles and control what you show on pages, posts, blog, projects, shop and more. It also offers versatile UI options for buttons, forms, menus and more! In addition, you can personalize any page and, override any set defaults and make it truly your own and unique. Finally, all our Elementor widgets have their own UI/Styling options which will let you keep the full control over your designs. Design confidently, design quickly and keep it looking amazing. Stun your clients with speed and professional finish with superbly styled DarkStar sections.
Reusable content blocks. Create & Insert wherever you want! DarkStar Sections are a Custom Post Type which lets you build custom content with elementor, just like a page. But what makes them special is that you can insert them across the entire theme including hard to edit locations or very specific locations such as "Shop – Above Product Tumbnails", "Blog – Below Featured Posts" etc.
Global Content – Yes! You don't need Elementor PRO to have global content with DarkStar. DarkStar Sections act as global content meaning you can reuse one section and insert it wherever you want and when you make changes to it, it will update wherever you used it. Awesome, right!
Clean, SEO-Friendly, Secure and Semantic Code
Built with respect to strict Envato, WordPress, PHP, and accessibility standards. We proud ouselves on building clean, semantic code with all security, accessibility, UX, UI, Design and other standards in mind.
DarkStar Character
DarkStar has an evocative, powerful and creative dark appeal with elegant lines, tones and aesthetics. It features immersive, deep and dramatic dark tones to accommodate for maximum impact and effect of the imagery and text. It instantly catches the user's attention and leaves a strong impression. DarkStar looks and feels luxury, polished and professional. It was designed with immense attention to details and we wanted to include the best premium components on the market so the end user really feels it. The impressive character and superb visual appeal is backed with semantic, SEO-friendly, secure, accessible and clean code. The theme is cross-browser combatible and comes with a sizeable collection of reausable effects and tools.
Well Documented and More
DarkStar is well-documented, it includes in-depth video tutorials and comes with dedicated support and lifetime updates.
DarkStar Features:
Superior Dark Design
Clean, modern, multi-purpose designs and elements which can be used to build unlimited websites
Dozens of pre-designed Demo Websites
WooCommerce Theme
WooCommerce Compatible
Full WooCommerce Dark Design Included
E-Commerce, Dark Shop
Elementor Page Builder
Front-end Page Builder
Front-end Design & Styling
40+ Premium Elementor Widgets
DarkStar Elementor Elements
Includes our own PRO widgets like many of Elementor PRO widgets
Full control over site width, Layout & Sidebar.
Compatible to the latest WordPress versions, as quickly as possible
Compatible with the latest versions of 3rd party required plugins, as quickly as possible
Extensively SEO Optimized and compatible with SEO plugins like Yoast SEO
Project Custom Post Type
Portfolio Elementor Widget – Works with our Project Custom Post Type
Gallery Custom Post Type
Carousel Gallery Elementor Widget – Works with our Gallery Custom Post Type
Powerful Typography Options
Powerful Typography Options
Powerful UI/UX & Styling Options
Forms – Contact Form 7 and MailPoet Forms with Our Premium Design and Elementor Widgets
Contact Forms 7 Elementor Widget
MailPoet Elementor Widget
Dozens of Homepages
50+ Regular Pages
Super-valuable ($250+ Added Value)
Performance-boost ready: tested with WP Super Cache, JetPack, JetPack Boost and Asset CleanUp: Page Speed Booster plugins
Retina ready, ultra high-resolution graphics
Powered by GSAP, (GSAP Business Green, +$199 per year Added Value)
Fully Responsive
Fully styled mobile and responsive layout on 6 breakpoints.
Parallax
Parallax Hero Strips
Parallax Hero Sliders
Skilltech Combo Slider
Hero Slide Show
Hero Images
Slick Portfolio
Portfolio Carousel
Parallax Backgrounds
Parallax Images & Video
Interatcive (to mouse) Parallax Effects
HTML5 Video Background
YouTube Video Background
Mega Video Text Effect
Mega Image Text Effect
Morphing Hover Image Effect
Animated Headlines Effect
Clean Code
Well-commented Code
Semantic Code
SEO-friendly Code
Contact Forms
Subscribe Forms
Built on Bootstrap 5
Redux Framework
MetaBox.io Plugin Integrated
Production Ready Tools
Aesthetics, structure, effects & Animations controls
Sub-menus (Multi-level Menus)
Gear Menu (Secondary Side Menu)
3-levels deep menu
Page-pushing Mobile Menu
Animated Headers
Animated Counters
Animated Icon Hovers
Animated Image Hovers
Animated Page Loading Effect
Animated Progress Bars / Skill Bars
Animated Text Shadows that react to mouse movement
Icon Boxes
Icon Boxes Section
Feature Boxes
Feature Boxes Section
1500+ Icons Included
Custom IcoMoon Icon Font Collection
Image Boxes
Image Boxes Section
Galleries
Carousels
Metro-slider Portfolio
Parallax Gallery
Testimonials
Testimonials Section
Call To Action (CTA) Section
Gradient Buttons
Gradient Outline Buttons
Dynamic Gradient Button
Gradient Glow Buttons
Modern Responsive Menu
Premium CSS3 Animations
Custom CSS3 Animations
Premium JS Animations
Custom JS Animations
Premium AI And PSD Mock Ups Included (+$55 Added Value)
Gradient Backgrounds
Image Backgrounds
Morphing Hover Backgrounds
Excellent Documentation
Well Structured Code
Cross Browser Support
Child Theme Included
About Us Page
Servuces Page
Service Page
Product Page
Portfolio Page
Portfolio Item Page / Project Page (with parallax gallery)
Portfolio Item Page / Project Page (with classic gallery)
Features Page
News Page
Article Page / Post Page (with parallax header)
Article Page / Post Page (classic style)
Contact Us Page
Coming Soon Page
404 Page
Terms and Conditions Page
Privacy Policy Page
Simple Footer / Minimal Footer
Full Footer
Beautiful Typography
Gradient Text
Color-changing Text
Powerful Color Options
Fancy Gradient Text
Ads Solution
Text With Changing Words (Or Sentences)
Material Icons Icon Font
Elegant Themes – Line Icons Icon Font
Linecons Icon Font
Entypo+ Icon Font
Font Awesome 4.7 Icon Font (entire font)
Typicons Icon Font
Brankic 1979 Icon Font
Icomoon Free Icon Font (entire font)
NEW! Custom, double-clipped, gradient outlines Text
Support & Copyright
Our theme comes with full support. If you have any questions or problems regarding this WordPress Theme, our team will be ready and at your disposal.
ALL delivered images and videos used in the design are licensed under CC0 so you are free to do whatever you want with them (commercial use included).
All company logos belong to their respective owners.
Warning: This is a WordPress WooCommerce and Elementor theme! You will need WordPress installed and knowledge of WordPress, WooCommerce and Elementor.
PHP Version 8.0.19 or later (but within 8.0) is required.
Some of the images and videos included in the preview will not be included in delivery files. ALL delivered images and videos used in the design are licensed under CC0 so you are free to do whatever you want with them (commercial use included), and the non CC0 content cannot be delivered due to Envato licensing policy.
NOTE: We will do our best to keep the website compatible with as many browsers and devices as possible but no one can guarantee 100% compatibility with 100% of browsers and devices 100% of the time. This is especially related to mobile devices and Apple devices, as well as for using the video background homepages.
Latest Version
DarkStar 1.0.0 (1.6.2023)

+ Initial Release

* – Actual market price of one year of GSAP Business Green plan and licenses for Skilltech PSD & AI Mockups collection
– Actual yearly market price for GSAP Business Green plan.