Mikado One – Multipurpose Business Theme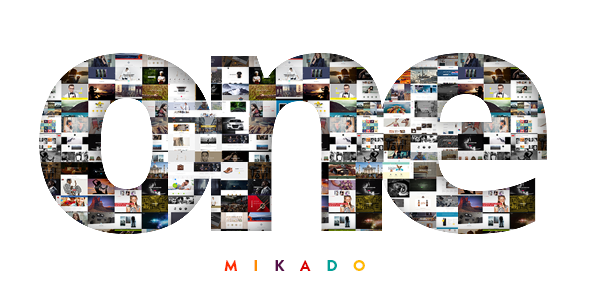 If you search for one theme for all your needs, search no more. With Mikado One, you get the ultimate multipurpose business toolkit. Equipped with business, corporate, creative and photography demos, this theme perfect for any type of professional website. Designed to look great on any screen size or device type, Mikado One requires no coding knowledge and allows you to customize each element to fit your needs. Also, it's compatible with WooCommerce plugin so you can start your online store in no time.
Check out other themes from our portfolio
Sign up for our newsletter and be the first to find out all the latest news and discounts.
Mikado One Features
37 Demos
45+ Custom Shortcodes
600+ Google Fonts
Extensive Admin Interface
Retina Ready
Custom Sidebars
Parallax sections
Image/Video Slider with Parallax functionality
Highly Customizable
Mega Menu
Customizable Google Maps
Choose between Font Awesome and Font Elegant Icons sets
One-Click Demo Content Import
Smooth Scroll – for Chrome and Opera browsers
LayerSlider Responsive WordPress Slider Plugin included ($26 value)
WPBakery Page Builder Plugin for WordPress included ($46 value)
Fullscreen Menu
Side Menu – left and right positions, as well as optional background images and color from page to page
Side Area
Anchor link functionality
Sticky Content Menu – separate anchor menu created from sections on page
Video Background Sections
15 header combinations
Separate logos for Regular, Sticky , and Fixed Advance header types
Separate logo for Side Menu Area Bottom
Separate Header Top area
Header Top and Header Bottom Widget areas
Mikado Search – Optional functionality in header right widget area
Customizable Footer Layout – up to 4 columns
Regular and unfolding footer
Separate Footer Bottom area
AJAX Page Transitions – choose between 4 different animations which can be controlled globally or from page to page
Carousel Slider – Full-width carousel slider plugin
Multiple Portfolio List layouts
Multiple Portfolio Single layouts
11 Portfolio list hover types
Multiple Blog List layouts
Custom Post Formats for Standard, Gallery, Link, Quote, Video, and Audio posts
Blog Masonry Layout
Portfolio Masonry (regular and Pinterest style) Layout
SEO integration
Child Theme Ready
WPML Plugin Integration
Translation ready
WooCommerce Integration
Contact Form 7 Integration
BuddyPress Integration
We do not own the copyright for the images featured in this theme. The images in question are only used for presentational purposes on our demos. These images cannot be used on your website, unless you purchase the license from a stock image website yourself.
Change Log
Version 2.2 November 4th, 2020

- Added WordPress 5.5 compatibility
- Added WooCommerce 4.6.1 compatibility
- Updated WPBakery Page Builder to 6.4.1
- Updated Layer Slider to 6.11.2
- Fixed bug with no param function

Version 2.1 August 20th, 2019

- Added WooCommerce 3.7.0 compatibility
- Updated WPBakery Page Builder to 6.0.5
- Updated Layer Slider to 6.9.0
- Updated Mikado Core plugin to version 2.0.4
- Fixed bug with post types
- Fixed Social Share on blog posts

Version 2.0.4 May 8th, 2019

- Fixed bug with not exist functions

Version 2.0.3 April 19th, 2019

- Updated Mikado Core plugin to version 2.0.3
- Added WooCommerce 3.6.1 compatibility

Version 2.0.2 April 9th, 2019

- Updated Mikado Core plugin to version 2.0.2
- Fixed translation/pot files

Version 2.0.1 March 29th, 2019

- Updated Mikado Core plugin to version 2.0.1
- Fixed WooCommerce functionality
- Fixed WooCommerce global options
- Fixed Select2 on shop pages

Version 2.0 (Major update) – March 29th, 2019

- Added WordPress 5.x compatibility
- Updated Mikado Core to version 2.0
- Updated Visual Composer to version 5.7
- Updated Layer Slider to 6.8.2
- Improved theme templates, modules and functions
- Improved theme security
- Improved theme performance (Added logic to create static css, js files instead of php (style_dynamic.php, style_dynamic_responsive.php and default_dynamic.php))
- Improved options image pop-up editor for dashboard panel
- Improved comments list
- Escaped all variables, text domains etc.
- Renamed all functions, hooks, templates with unique name
- Removed custom_css.php and custom_js.php files and improved logic to add custom code as inline
- Removed unnecessary functions, variables etc.
- Fixed theme text domain
- Fixed bugs

Version 1.11 – August 10th, 2018

- Added WooCommerce 3.4.4 compatibility
- Added compatibility with PHP 7.2
- Updated Visual Composer to 5.5.2
- Updated Layer slider to 6.7.6

Version 1.10 – January 24th, 2018

- Added WooCommerce 3.2.6 compatibility
- Added Envato Market plugin as required
- Added recommended plugins (WooCommerce and Contact Form 7)
- Updated Visual Composer to 5.4.5
- Updated Layer Slider to 6.6.7
- Fixed potential security issue when saving theme options
- Fixed deprecated create_function
- Improved menu import functionality

Version 1.9 – August 11th, 2017

- Added WooCommerce 3.1.1 compatibility
- Updated Visual Composer to  5.2.1
- Updated Layer Slider to 6.5.7
- Fixed https problem with links
- Fixed potential security issue when saving theme options

Version 1.8 – December 27th, 2016

- Added WooCommerce 2.6.11 compatibility
- Updated Visual Composer to  5.0.1
- Updated Layer Slider to 6.1.0
- Updated Font Awesome to version 4.7.0

Version 1.7 – October 13th, 2016

- Added WordPress 4.6.1 compatibility
- Added WooCommerce 2.6.4 compatibility
- Added option for Google maps api key
- Updated Visual Composer to 4.12.1
- Updated Font Awesome icons to version 4.6.3
- Updated Layer Slider to 5.6.10

Version 1.6 – July 4th, 2016

- Added Woocommerce 2.6.1 compatibility
- Updated Visual Composer to 4.12
- Updated Layer Slider to 5.6.8
- Updated TGM Plugin Activation to 2.6.1
- Fixed Social Share functionality

Version 1.5.2 – April 25th, 2016

- Updated Visual Composer to 4.11.2.1
- Updated Layer Slider to 5.6.6

Version 1.5.1 – April 13th, 2016

- Updated WordPress 4.5 update. JS fix for conflict with wp 4.5

Version 1.5 – March 23rd, 2016

- Added WooCommerce 2.5.5 compatibility
- Updated Visual Composer to 4.11.1
- Updated Mikado Core plugin to 1.0.4
- Fixed bug with custom widget area deleting
- Fixed Google Map Warning for Sensor parameter no longer being required
- Fixed bug with Portfolio List column number
- Fixed wrong filters label in Portfolio List element
- Fixed bug with Icon With Text element color settings

Version 1.4.1 – October 8th, 2015

- Updated Visual Composer to 4.7.4
- Updated Layer Slider to 5.6.2

Version 1.4 – August 28th, 2015

- Added WooCommerce 2.4.6 compatibility
- Added field for title height on single post
- Updated Visual Composer to 4.6.2
- Updated Layer Slider to 5.5.1
- Updated Font Awesome to version 4.4.0

Version 1.3 – June 24th, 2015

- Updated Visual Composer to 4.5.3
- Updated PrettyPhoto to 3.1.6
- Updated Mikado Core plugin to 1.0.3
- Fixed issue with Order By option for Carousel shortcode
- Solved issue with prettyPhoto and Single Image

Version 1.2 – June 5th, 2015

- Added WooCommerce 2.3.10 compatibility
- Updated Visual Composer to 4.5.2
- Updated Layer Slider to 5.4.0
- Fixed issue with Yoast SEO plugin and theme's page transitions
- Fixed issue with Yoast SEO plugin and theme's meta boxes not saving values

Version 1.1.1 – April 28th, 2015

- Updated Mikado Core plugin to 1.0.2
- Fixed issue with Mikado Core version number

Version 1.1 – April 24th, 2015

- Added WooCommerce 2.3.8 compatibility
- Updated Visual Composer plugin to version 4.4.4
- Updated TGM Plugin Activation class for security vulnerability
- Fixed ajax content jumping on small screens
- Fixed seo custom fields
- Fixed ajax and admin toolbar issue

Version 1.0.1 – April 2nd, 2015

- Updated Mikado Core plugin to version 1.0.1
- Fixed bug with header alignment when Passepartout is off
- Fixed min height bug with Passepartout and ajax page transitions enabled
- Fixed title animation bug with ajax page transitions
- Fixed scroll functionality with Vertical Split Slider and ajax page transitions on touch devices
- Fixed bug with anchor scroll and transparent fixed menu
- Fixed bug with portfolio masonry filter responsiveness
- Fixed bug with Contact Form 7 and Vertical Split Screen
- Fixed bug in Mikado Core plugin with Mikado Slider options

Version 1.0 – March 26th, 2015

- Initial Release

#Mikado #Multipurpose #Business #Theme
Source