Jannal – Curtains & Doors WordPress Theme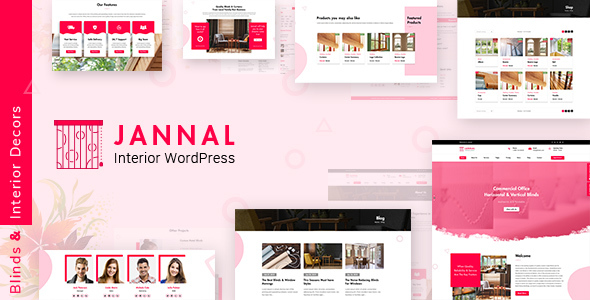 Jannal is an awesome interior Decoration and Interior Design WordPress theme. Suits best for Buildings and House interior design retail and services like Interior & Exterior Design, Kitchen, Living room, Bedroom, Residential, Office and Commercial Designs.
This theme features the best designed Portfolio Layout, Product details, Gallery Layouts, and Blog layouts, and the most powerful Woocommerce integrated shop to sell furniture, lights, contemporary furniture, window blinds, interior blinds, exterior blinds.
Create interior decoration websites, creative interior, interior designing, interior designer website, interior furniture, home decoration, furniture WordPress, interior, modern interior design




All the elements are can be customized easily without recreating it. In Jannal you can customize this theme to any business.
Jannal is provided with 10 unique pages
01_Home
02_About
03_Team
04_Service
05_Service Details
06_Faq
07_Price
08_History
09_Shop
10_Contact
You can add your own images as clipping areas on those shapes. Most of the images are from Shutter Stock
Icons: Icons are from Free Font Icons and from Shutter Stock. Icons are fully editable and can be customized easily.

NOTE: Images used in the demo are not included for download, these images are copyrighted, if you are planning to use the photos we can provide the links to buy the license.
Changelog
2022.11.26 – version 2.5
* Compatible with WordPress 6.1.1
* Compatible with latest WooCommerce versions
* Compatible with PHP 8.1 version
* Updated: All premium plugins
2022.09.15 – version 2.4
* Compatible with WordPress 6.0.2
* Compatible with the latest WooCommerce plugin
* Updated: All premium plugins
2022.04.18 – version 2.3
* Enquiry button screen resolution issue is fixed
2022.03.02 – version 2.2
* Fixed Kirki Customizer Issue
2021.01.23 – version 2.1
* Compatible with wordpress 5.6
* Some design issues updated
* Updated: All premium plugins
2020.12.09 – version 2.0
* Portfolio animate issue
2020.12.01 – version 1.9
* Latest jQuery fixes updated
         * Updated: All premium plugins
2020.08.13 – version 1.8
* Compatible with wordpress 5.5
2020.08.05 – version 1.7
* Updated: Envato Theme check
    * Updated: sanitize_text_field added
    * Updated: All wordpress theme standards
    * Updated: All premium plugins
Version 1.6 – 06/07/2020
* Compatible with wordpress 5.4.2
    * Updated: All premium plugins
    * Updated: Some design tweaks
    * Updated: Sub menu mouse hover issue
    * Updated: Activating another theme causes error
Version 1.5 – 01/02/2020
* Compatible with wordpress 5.3.2
* Updated: All premium plugins
* Updated: All wordpress theme standards
* Updated: Privacy and Cookies concept
* Updated: Gutenberg editor support for custom post types

* Fixed: Google Analytics issue
* Fixed: Mailchimp email client issue
* Fixed: Privacy Button Issue
* Fixed: Gutenberg check for old wordpress version

* Improved: Tags taxonomy added for portfolio
* Improved: Single product breadcrumb section
* Improved: Revisions options added for all custom posts
Version 1.4 – 11/11/2019
* Compatible with wordpress 5.2.4
* Updated: All wordpress theme standards
* Updated: All premium plugins
Version 1.3 – 31/07/2019
* Fixed: Tags taxonomy display for portfolio
Version 1.2 – 30/07/2019
* Compatible with wordpress 5.2.2
* Updated: All premium plugins
* Updated: Revisions added to all custom post types
* Updated: Gutenberg editor support for custom post types
* Updated: Link for phone number module
* Updated: Online documentation link, check readme file

* Fixed: Customizer logo option
* Fixed: Google Analytics issue
* Fixed: Mailchimp email client issue
* Fixed: Gutenberg check for old wordpress version
* Fixed: Edit with Visual Composer for portfolio
* Fixed: Header & Footer wpml option
* Fixed: Site title color
* Fixed: Privacy popup bg color
* Fixed: 404 page scrolling issue

* Improved: Single product breadcrumb section
* Improved: Tags taxonomy added for portfolio
* Improved: Woocommerce cart module added with custom class option

* New: Whatsapp Shortcode
Version 1.1 – 06/06/2019
* Enhanced Dummy Data
#Jannal #Curtains #Doors #WordPress #Theme
Source