Hazel – Creative Multi-Concept Theme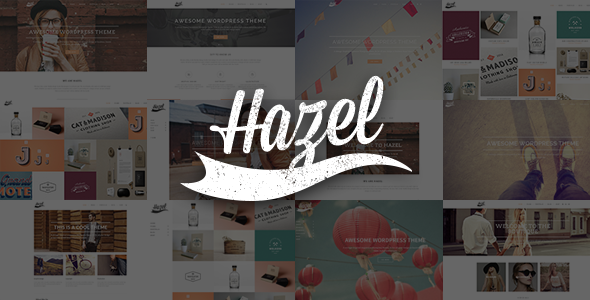 Hazel is multi-purpose, clean, elegant, hipster, responsive WordPress theme ideal for creative use, photography, portfolio showcase, modern businesses, agency, fashion, blog, shop, personal use, etc. Hazel is highly customizable theme with unlimited combinations of header layouts, fullscreen layouts, title area layouts, mega menu, side menu, video option and tons of shortcodes. With powerful and flexible theme options, included page builder, it gives freedom to create beautiful web sites and unlimited number of different page layouts.
Hazel comes with 35 amazing ready-to-use demo sites released in 3 different editions: Original (16 demo sites), Gold (16 demo sites) and Glass (3 demo sites). You can import any of available demo sites with one-click import module included with the theme. Choose demo site, import it and start building your web site in minutes. You can use any feature displayed on any of the demo sites, no matter which one you imported, as all of them are created from the same theme. Ideal for any agency, blog or business website!
Here's a link if you wish to view the Hazel documentation.
If you have any questions or wish to learn more about Hazel theme, we've compiled a huge selection of useful articles which you can easily lookup over at our Knowledge Base.
In case you have already purchased Hazel and you happen to have some questions about it, feel free to visit our Help Center where our support team will be more than glad to help you out.
Check out the Qode Video Tutorials where you can find step-by-step guides on how to customize our themes to achieve exactly what your website needs.
Like our theme? Feel free to browse our other multipurpose templates for WordPress.
Theme Features
Parallax Image/Video Slider
Unlimited Header Layouts
Unlimited Title Area Layouts
Customizable Mega Menu
Left Menu – with optional background image and color from page to page
Fullscreen Menu
Sticky Content Menu – menu created from selected sections on page
Anchor functionality in menu – easily navigate to any section on the same or different page
Side Area
Video Background Sections
Fixed Header (logo on the left and menu on the right)
Fixed Header (logo centered above menu centered with widgets on both sides of the logo featuring hidden menu on scroll displayed on mouse over)
Sticky Header (logo on the left and menu on the right)
Sticky Big Header (logo and menu on the left, menu below logo)
Sticky Left/Right Menu Header (logo centered with menu on both sides of the logo)
Header with Logo and Menu centered
Normal & Sticky Header Logo Versions
Optional Header Top widgets area
Expandable Search Field – Optional functionality in header right widget area
Customizable Footer – choose from 1 to 4 column layout, with regular or unfold functionality
AJAX Page Transitions – choose between 4 different animations, can be controlled globally or on page level
WPBakery Page Builder Plugin for WordPress included ($46 value)
LayerSlider Responsive WordPress Slider Plugin included ($25 value)
Parallax Sections
WooCommerce Integration
Interactive Infographics
Custom Post Formats: Standard, Gallery, Link, Quote, Video, Audio
Carousel Slider – Full-width carousel slider plugin
Multiple Portfolio List and Single Layouts
Multiple Blog List and Single Layouts
Blog Masonry Layout
Portfolio Masonry (regular and Pinterest style) Layout
Smooth Scroll – for Chrome and Opera browsers
Retina Ready
Multiple Custom Sidebars
Powerful Admin Interface
Highly Customizable
30+ Custom Shortcodes
600+ Google Fonts
Font Awesome and Font Elegant Icons set
Demo Content Import with One-Click
WPML Plugin Integration
Translation (po&mo files) Ready
SEO Optimized
Child Theme Ready
Find out more about Hazel WordPress Theme
We do not own the copyright for the images featured in this theme. The images in question are only used for presentational purposes on our demos. These images cannot be used on your website, unless you purchase the license from a stock image website yourself.
Update Log
Version 4.7 – July 14th, 2022

- Added WordPress 6.0.1 compatibility
- Added WooCommerce 6.7.0 compatibility
- Updated WPBakery Page Builder to 6.9.0
- Updated LayerSlider to 7.2.4

Version 4.6 – March 28th, 2022

- Added WordPress 5.9.2 compatibility
- Added WooCommerce 6.3.1 compatibility
- Updated WPBakery Page Builder to 6.8.0
- Updated Hazel Core plugin to 1.0.7
- Updated LayerSlider to 7.1.3
- Updated Hazel Child Theme to 1.1.1
- Fixed title on shop single pages
- Minor style improvements

Version 4.5 – November 15th, 2021

- Added WordPress 5.8.1 compatibility
- Added WooCommerce 5.8.0 compatibility
- Added PHP 8 compatibility
- Updated Hazel Core plugin to 1.0.6
- Updated WPBakery Page Builder to 6.7.0
- Updated LayerSlider to 6.11.9
- Updated GPL
- Fixed potential security issue
- Fixed Portfolio List Load More functionality
- Fixed Portfolio Slider fatal error
- Fixed Portfolio Slider showing post items
- Fixed cart widgets on WP 5.8
- Fixed dropdown cart widget appearance for vertical header
- Fixed dropdown cart widget showing code
- Fixed add to cart console error
- Fixed Hazel add shortcode button
- Fixed Hazel add shortcode color picker console error
- Fixed import module
- Fixed font and shortcode errors after import
- Fixed 'Bulk Select' functionality with Menus
- Improved qode_get_attachment_id_from_url function
- Removed Google Plus social share option

Version 4.4.1 – December 7th, 2020

- Updated WPBakery Page Builder to 6.4.2

Version 4.4 – November 17th, 2020

- Added WordPress 5.5 compatibility
- Added WooCommerce 4.7.0 compatibility
- Updated Hazel Core plugin to 1.0.5
- Updated WPBakery Page Builder to 6.4.1
- Updated LayerSlider to 6.11.2
- Updated infiniteScroll JS plugin to v3.0.6

Version 4.3 – October 4th, 2019

- Added WooCommerce 3.7.0 compatibility
- Added functionality to remove portfolio images (multiple upload) on single portfolio item
- Updated Hazel Core plugin to 1.0.4
- Updated LayerSlider to 6.9.2
- Fixed Hover Box button
- Fixed Twitter share functionality

Version 4.2 – July 26th, 2019

- Added WooCommerce 3.6.5 compatibility
- Updated WPBakery Page Builder to 6.0.5
- Fixed Select Slider Navigation
- Fixed get image dimensions function error

Version 4.1– June 27th, 2019

- Added WooCommerce 3.6.4 compatibility
- Updated Hazel Core plugin to 1.0.3
- Updated WPBakery Page Builder to 6.0.3

Version 4.0.4 – May 16th, 2019

- Updated Hazel Core plugin to 1.0.2
- Updated LayerSlider to 6.8.4
- Updated WPBakery Page Builder to 6.0.1
- Improved theme security
- Minor improvements

Version 4.0.3 – May 14th, 2019

- Minor improvements

Version 4.0.2 – May 9th, 2019

- Updated LayerSlider to 6.8.3
- Improved loading of Google Fonts
- Fixed problem with HTTP/HTTPS links

Version 4.0.1 – May 7th, 2019

- Added WooCommerce 3.6.2 compatibility
- Improved import functionality
- Updated Hazel Core plugin to 1.0.1
- Fixed Sidebar Layout global option for blog single pages
- Fixed load more and infinite scroll pagination for blog masonry templates
- Fixed issues with WooCommerce default shop page
- Fixed issue with search opener

Version 4.0 – April 3rd, 2019

- Added WordPress 5.x compatibility
- Added Hazel Core plugin
- Updated Layer Slider to 6.8.2
- Updated WPBakery Page Builder to 5.7
- Updated Hazel Child Theme to 1.1
- Improved theme templates, modules and functions
- Improved theme security
- Improved theme performance (Added logic to create static css, js files instead of php (style_dynamic.php, style_dynamic_responsive.php and default_dynamic.php))
- Improved options image pop-up editor for dashboard panel
- Improved comments list
- Escaped all variables, text domains etc.
- Renamed all functions, hooks, templates with unique name
- Removed custom_css.php and custom_js.php files and improved logic to add custom code as inline
- Removed unnecessary functions, variables etc.
- Fixed theme text domain
- Fixed bugs

Version 3.9 – March 23rd, 2018

- Added compatibility with PHP 7.2
- Updated Visual Composer to 5.4.7
- Updated Layer Slider to version 6.7.1
- Updated Envato Market to 2.0.0

Version 3.8 – March 07th, 2018

- Added WooCommerce 3.3.3 compatibility
- Updated Layer Slider to version 6.7.1
- Fixed depricated create_function

Version 3.7.1 – November 28th, 2017

- Updated Visual Composer to 5.4.5
- Fixed custom shortcodes integration

Version 3.7 – November 23th, 2017

- Added WooCommerce 3.2.5 compatibility
- Added Envato Market plugin as required
- Added recommended plugins (WooCommerce and Contact Form 7)
- Updated Visual Composer to 5.4.4
- Updated Layer Slider to version 6.6.4
- Fixed deprecated constructor for PHP 7
- Fixed single post https links
- Fixed variable product button
- Proceed to checkout text for translation
- Improved import functionality
- Improved anchor check function security

Version 3.6 – May 18th, 2017

- Added WooCommerce 3+ compatibility
- Updated Visual Composer to 5.1.1
- Updated Layer Slider to version 6.4.0
- Fixed google font links
- Fixed Select slider overlapping issue

Version 3.5 – December 21th, 2016

- Added WooCommerce 2.6.9 compatibility
- Updated Layer Slider to version 6.1.0
- Fixed style issue with Select Slider on Chrome browser

Version 3.4 – November 25th, 2016

- Added WooCommerce 2.6.8 compatibility
- Updated Font Awesome pack to version 4.7.0
- Updated Visual Composer to 5.0.1
- Updated Layer Slider to version 6.0.6

Version 3.3 – October 6th, 2016

- Added WordPress 4.6.1 compatibility
- Added WooCommerce 2.6.4 compatibility
- Added option for Google maps api key in Select General
- Updated Visual Composer to 4.12.1
- Updated Layer Slider to version 5.6.10
- Updated TGM Plugin Activation to 2.6.1

Version 3.2.1 – July 12th, 2016

- Fixed bug with missing custom style files

Version 3.2 – June 23rd, 2016

- Added Woocommerce 2.6.1 compatibility
- Updated Visual Composer to 4.12
- Updated Layer Slider to 5.6.8
- Fixed Social Share functionality

Version 3.1 – April 22th, 2016

- Updated Visual Composer to 4.11.2.1
- Updated Layer Slider to 5.6.6

Version 3.0 – April 13th, 2016

- Added WordPress 4.5 compatibility

Version 2.9 – April 6th, 2016

- Added WooCommerce 2.5.5 compatibility
- Updated Visual Composer to 4.11.1
- Fixed bug with deleting custom widget area
- Fixed warning for deprecated sensor parameter for Google maps

Version 2.8.1 – October 8th, 2015

- Updated Visual Composer to 4.7.4
- Updated Layer Slider to 5.6.2

Version 2.8 – August 28th, 2015

- Added WooCommerce 2.4.6 compatibility
- Updated Visual Composer to 4.6.2
- Updated Layer Slider to 5.5.1
- Updated Font Awesome to version 4.4.0

Version 2.7 – June 24th, 2015

- Added WooCommerce 2.3.10 compatibility
- Updated Visual Composer to 4.5.3
- Updated Layer Slider to 5.4.0
- Updated PrettyPhoto to 3.1.6
- Enabled Yoast SEO page analysis functionality as conflict between Yoast SEO and Visual Composer is solved in new VC version
- Fixed bug with Visual Composer's row design options
- Fixed bug with Yoast SEO and page transitions
- Fixed bug with Yoast SEO and values from Select Meta boxes being reset. Page analysis in Yoast SEO has been disabled due to coding issue in Yoast SEO plugin
- Fixed issue with Single Image shortcode Image style property

Version 2.6 – April 25th, 2015

- Added WooCommerce 2.3.8 compatibility
- Updated TGM Plugin Activation class for security vulnerability
- Updated Visual Composer to version 4.4.4

Version 2.5 – March 19th, 2015

- Added WooCommerce 2.3.6 compatibility
- Updated Visual Composer to version 4.4.3

Version 2.4 – February 20th, 2015

- Added WooCommerce 2.3.4 compatibility
- Fixed bug with Header Style when ajax animation is enabled
- Fixed bug with grid size and position
- Fixed logo position when center logo is enabled and header in grid is set to no
- Fixed Google fonts link when SSL is enabled
- Fixed Google fonts family options for title, subtitle and text in Select Slider -> Slides
- Fixed bug with image upload field when used upload from url

Version 2.3.1 – December 23rd, 2014

- Updated Visual Composer to version 4.3.5
- Fixed Select Slider button rendering (space between attributes)
- Fixed bug with portfolio list masonry type

Version 2.3 – October 25th, 2014

- Added WooCommerce 2.2.7 compatibility
- Updated LayerSlider to version 5.3.2
- Fixed bug with notice on tags page
- Fixed bug with left and right sticky header type and logo link
- Fixed bug with Select Search and WPML
- Fixed bug with portfolio hover without space type
- Fixed bug with skill title for team shortcode

Version 2.2.1 – September 20th, 2014

- Updated Visual Composer to version 4.3.4
- Updated LayerSlider to version 5.3.0
- Updated WooCommerce template files for 2.2.4 compatibility
- Fixed bug with render Process styles
- Fixed bug with YOAST and page transitions error on home page
- Fixed bug with scrolling of left menu
- Fixed bug with WordPress read more tag
- Fixed bug with post comments date

Version 2.2 – September 13th, 2014

- Added WooCommerce 2.2 compatibility
- Added Contact Form 7 plugin integration
- Improved page transition to register page loading with Google Analytics
- Improved Expandable shortcode
- Updated touchSwipe plugin, now links are working on touch devices in Select Slider
- Updated FontAwesome icons pack to version 4.2.0
- Updated LayerSlider to version 5.2.0
- Fixed bug with related products for WooCommerce
- Fixed bug with color of add to cart icon in header and fixed header type and predefined header style
- Fixed bug with separator shortcode extra class option not rendering
- Fixed bug with left/right menu positioning when "Sticky with left and right menu (centered logo)" header bottom type is activated
- Fixed bug with social share on product single page when html tag is added to product description
- Fixed bug with responsiveness of Select image slider shortcode with highlighted active option turned on
- Fixed bug with title text displaying site title when page is selected as blog page in Settings -> Reading
- Fixed bug with YOAST notice for meta description
- Fixed bug with meta title when SEO plugins are used
- Fixed dropdown menu position when boxed layout is enabled
- Fixed bug with Input fields text color
- Fixed bug with woocommerce out of date files
- Fixed bug with wpml dropdown widget, when it is in header top and overlapping header bottom

Version 2.1 – August 7th, 2014

- Added Hazel Glass Edition with 3 new demos: Elena Glass, Lisa Glass & Brigitte Glass
- Added saturation and lightness options for google map
- Add option to Select Options for blog masonry: box background color, post format icon display, text alignment
- Add option to Select Options for WooCommerce: product list background color
- Updated latest post boxed type shortcode with new attributes: box background color, post format icon display, text alignment
- Fixed logo animation for "Fixed with hiding menu (centered logo)" header type
- Fixed Facebook sharing option with special characters
- Fixed search filed layout on small screen devices
- Fixed letter space changing for main menu dropdown
- Fixed flex slider init on blog masonry after loading more posts

Version 2.0 – July 26th, 2014

- Added Hazel Gold Edition with 16 new demos
- Added letter spacing option for title breadcrumbs in Select Options -> General Font Options
- Added font family option for counters shortcode in Select Options -> Elements
- Added testimonials text and author typography section in Select Options -> Elements
- Added letter spacing option for slide text in Select Slider
- Added optional separator element in Select Slider
- Added styling section for portfolio lists and portfolio slider in Select Options -> Portfolio
- Added blockquote typography section in Select Options -> Elements
- Added font style option for counters text and number in Select Options -> Elements
- Added new box shortcode
- Added WooCommerce section in Select Options for styling product list, single product page and WooCommerce widgets
- Added option for footer bottom font family in Select Options -> Header and Footer
- Added options for footer bottom border color and thickness in Select Options -> Header and Footer
- Added anchor field for each slide in Select Slider that adds down arrow that scrolls to section on the page
- Improved inclusion of Google fonts
- Improved sticky menu appearance when amount for it is set in Select Custom Fields and when Select Slider is added to page
- Fixed bug with button text color when first color is changed and button hover color is changed
- Fixed bug with portfolio like icon when first color is changed
- Fixed bug with separator width option in Select Shortcodes
- Fixed bug with page transitions and when footer isn't positioned on the bottom of the page
- Fixed bug with left menu predefined style (left / right) when transparency for left menu area is disabled

Version 1.4 – July 17th, 2014

- Added Hazel 16 - Grace example site
- Added new image slider shortcode
- Added anchor button to each slide in Select Slider
- Added option for footer to be positioned immediately after content when content of the page is small
- Added option for separator and separator styles between title and portfolio category in portfolio list shortcode
- Added option for portfolio category text color portfolio list shortcode
- Added option for styling icons in portfolio list shortcode
- Added section image hover effect options in Select Options -> Elements
- Added section for pricing tables styles in Select Options -> Elements
- Added border option for blog masonry items
- Added separator after post author option for blog masonry templates
- Added sidebar styling section in Select Options -> Elements
- Added comments styling section in Select Options -> Elements
- Added slide subtitle and it's styling section in Select Slider
- Added border option for footer top in Select Options -> Header and Footer
- Fixed Portfolio space issue on IE11
- Fixed posts overlap when Blog Masonry infinite scroll is enabled
- Fixed Scale steps and Scale step width attributes for Line graph shortcode

Version 1.3 – July 12th, 2014

- Added Hazel 15 - Molly example site
- Added new header bottom appearance (logo and menu layout) - Sticky with left and right menu (centered logo)
- Fixed "one by one" content animation of content in Qode Slider for Chrome
- Fixed positioning of logo on sticky menu when window is scrolled
- Fixed custom sidebar selection bug
- Fixed custom css file loading before responsive css file bug
- Fixed bug with don't link option for menu items and page transitions
- Fixed bug with click event with ctrl key pressed and page transitions
- Fixed color changing of "Fixed with hiding menu (centered logo)" header bottom type

Version 1.2.3 – July 10th, 2014

- Fixed custom sidebar selection bug
- Fixed custom css file loading before responsive css file bug

Version 1.2.2 – July 9th, 2014

- Improved anchor functionality to follow active items in main menu

Version 1.2.1 – July 8th, 2014

- Fixed changing colors on buttons
- Fixed Select Slider responsiveness on iPhone
- Fixed blog comments responsiveness
- Fixed navigation on portfolio slider when multiple instances are on one page
- Fixed load more portfolios repositioning when "masonry with space" type is chosen
- Fixed Hazel 13 and Hazel 14 import issue

Version 1.2 – July 5th, 2014

- Added Hazel 13 - Olivia example site
- Added Hazel 14 - Judy example site
- Added multiple images upload to portfolio items
- Improved resize logic for Select slider when height is set
- Fixed ajax loader position when Left menu is enabled

Version 1.1 – July 4th, 2014

- Initial Release

#Hazel #Creative #MultiConcept #Theme
Source